Purple State Of Mind News
Tracking Purple State of Mind across America…
2011-03-16 13:55:17
JULIAN SCHNABEL: "The whole civil society is held hostage by fanatics on both sides.."
Filed under: International, Movies
Posted by: Purple State of News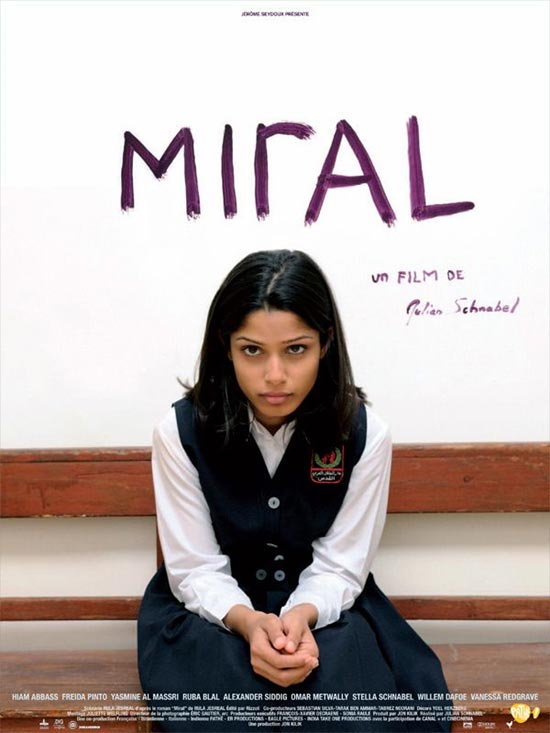 Between Japan, Libya and Madison, Wisconsin, who has time these days to think about the intractable Israeli-Palestinian conflict? Who wants to take on the burden of those endless arguments?
Julian Schnabel, of course. Schnabel, the artist turned director, already has a remarkable cinematic track record with Before Night Falls and The Diving Bell And The Butterfly, but his latest work seems likely to bust him out of the art house ghetto and into the realm of political controversy. The film Miral, which opens next week, screened this week at the United Nations and has already drawn fire from the American Jewish Committee for unfairly attacking Israeli settlement policy.
Miral stars Slumdog Millionaire star Frieda Pinto and tells the true story of Palestinian Rula Jebreal and her life in the midst of the Israeli-Palestinian conflict.
Given the director's track record and the fact that the AJC felt compelled to react so strongly, Miral sounds like it could be a promising examination of extremism. It's hard to make good art out of topical material, but miracles do happen. When it comes to opening up the stalled dialogue on the settlements, every little bit helps.
For the moment, Schnabel fans and critics will have to content themselves with this emotionally charged interview, courtesy of Deadline: Hollywood.
Here's an excerpt:
DEADLINE: Were any members of the American Jewish Committee at the screening?
SCHNABEL: I asked from the stage and no one responded. I invited them and thought it would be good for them to see it. It was such a beautiful evening, a 45-foot screen in the middle of the General Assembly. There were 1600 people. Robert De Niro, Sean Penn, Steve Buscemi and Josh Brolin showed up in solidarity, along with artists like Ross Bleckner, David Salle. And Vanessa Redgrave, who a long time ago got in a lot of trouble for saying something in support of Palestinian people at the Oscars. I remember being a kid when she said that, and everybody being so pissed off, saying just because you're an actress getting an award doesn't mean you should have a thought or a political point of view. I think Paddy Chayevsky said that. He was a brilliant, but it's very easy to pick on somebody who speaks up.
DEADLINE: Why was it important for you to show Miral there?
SCHNABEL: That's the platform for dialogue for the whole world. It's the place where conflicts are sorted out, and it's where Israel was born in 1948. There is a global non-violent revolution going on in the Middle East, with dictators falling everywhere because people want to be free. It's true not only in countries that have been in the news, but also in Israel. I think a non-violent Democratic revolution is coming. Young people are tired of their leaders, tired of Hamas, tired of leaders who have been representing the Palestinians. Israelis are tired, and many Jewish people are tired of the leaders leading that country. We need a statesman over there, not a politician. Netanyahu isn't going to solve anything when he exacerbates things by saying they're going to build more settlements because people are killed.
DEADLINE: You mean his reaction to the terrorist murder of a Jewish family in the settlement while they slept?
SCHNABEL: I feel terrible those people were killed, but to justify it with that creates more hate. For President Obama to veto the notion that it would be illegal to do that, I'm extremely disappointed in him. He's a guy I believe in. I loved when he came out initially against the settlements and his speech in Egypt generated the sense of possibility for democracy. He gives great speeches, but what the hell is going on? We can't let the Jewish lobby create this blind, blanket support of something that's inhumane. We're not free, as long as that continues.
My mother was the head of Hadassah, and I believe in the Jewish homeland as a democratic place, but for everyone who lives there. You shouldn't have to be Jewish to be free in Israel. The Palestinians are not our enemies. The whole civil society is held hostage by fanatics on both sides. Young people, Israelis and Palestinians, just want to be able to go to school and come home at the end of the day and not get blown up. There are a lot of young people who are soldiers and don't want to be soldiers. Does anyone want to be a soldier?
DEADLINE: No, but there are undeniable security concerns behind this. Having made the movie, what do you think the answer is for a peaceful solution in the settlement areas?
SCHNABEL: First of all, they have to stop building these settlements. Take them out. That's not a military solution, it has to be a humanitarian solution. It is like black people living in the United States in 1960. It is apartheid, that's what it's like over there. It is shocking. I didn't want to say these things when I made the movie. I wanted people to look at the movie as a work of art. But now I see it as a vessel, about opening your heart, understanding, and non-violent solutions. There are things that are controversial in the film, things that are shocking to see. But it is so light in the context of what really goes on. Under the guise of state security, a little girl can't go to school. The orphanage depicted in the film had 3000 girls at its peak, and there's hardly anybody in it now. Because of the wall, the security fence that goes all around these illegal settlements and makes life impossible for the Palestinian people.
It kills any kind of industry they could have. Only Jewish people can drive to Jerusalem in 15 minutes. These other people, it takes hours for them to get anywhere. It is totally dehumanizing and unacceptable. I was so ashamed of my people, so ashamed to see somebody throw a rock at a young man, hit him in the head, while two soldiers are watching. A young Hasidic kid throws a rock at a Palestinian guy, who hits the ground. And soldiers are standing there, watching this happen, and they don't do anything. Our tax dollars are paying for this. The government is paying for two soldiers for every settler.
DEADLINE: Why does an American filmmaker who's Jewish take on subject matter like this that is told from the perspective of a Palestinian?
SCHNABEL: When I read this book by Rula Jebreal, what struck me was it was about a family. This could happen to anybody. This little girl, her mother commits suicide. Her father, who's much older and not really her biological father, feels she can be saved if she goes to this school. The school was started in 1948, after the Deir Yassin Massacre, which I'd never heard of. The Irgun and the Haganah together wiped out a village and the Palestinians left because they were terrified they were going to be killed. I said to Rula, what did the Arabs do to the Jews for that to happen? She said, what do you mean? Well, it was a concept of depopulation. And when the Palestinians left, Nasser says, "Leave, and we'll kill all the Jews and then you can come back." That was a terrible, idiotic thing to say. It created the most famous line everybody spouts, that "they just want to push the Jews into the sea." Basically because we have such a fear– we say "never again" about the Holocaust– there's this overcompensation and it's a justification for inhumane brutality. The battle is so uneven over there that we have just become barbarians. I spent January to June making this film all over Israel. Being there, there's just such a flagrant disrespect for the dignity of the Palestinian people there. It's really like they are not even second class citizens. It is shocking.
For the rest, go here.
2011-01-26 16:38:45
2010 OSCAR NOMINATIONS (Read any good screenplays lately?)
Filed under: Awards, Movies
Posted by: Purple State of News
With the announcement yesterday of the Oscar nominations (the full list is also available here), the awards season is now in full swing. Inevitably, there were the typical snubs and surprises among the nominees, and critic Roger Ebert offers his initial impressions here.
Since many of the nominated films were released earlier in the year – and not everyone (even in Hollywood) will have had access to some of the smaller titles – at least all of the nominees are available via streaming On Demand at Amazon.
If you've never had a chance to read a screenplay for a film before, on its own it can't quite take the place of seeing the actual film version itself. However, reading a screenplay be a meaningful creative exercise, as the script essentially serves as the foundation and blueprint upon which the film is built, and one can also get a sense of the flow of the written word and the skill of the writer's craft. Here, we offer two of the frontrunners for Oscar consideration (both in the Best Picture and Writing categories) this year: The King's Speech (Best Original Screenplay) and The Social Network (Best Adapted Screenplay). These are officially available online via deadline.com and can also be dowloaded as pdf files. Deadline also offers this terrific Q & A with writer Aaron Sorkin on The Social Network. Here are his thoughts on blurring the lines between reality and fiction:
I'm not going to mess with somebody for the sake of making a flashier movie somehow. But, and I know that this will sound like I don't have a conscience and I'm contradicting myself, but there is a difference between a non-fiction movie and a documentary. There's a difference between a non-fiction movie and journalism. And I would tell anyone that if you are seeing a movie that begins with 'The following is a true story…', you need to look at that movie the way you would a painting and not a photograph. This is my take on what happened. You can put a bowl of fruit on a table and have 10 people take a picture of it and those 10 photographs would look pretty much like each other. If you ask 10 painters to paint it, you're going to get a lot of different versions of the thing. And so I was telling a true story, but very quickly the people became characters to me and not historical figures. And people, and properties of people, and properties of characters, actually have very little to do with each other. I know people don't speak in dialogue, and life doesn't play itself out in a series of connected scenes that form a narrative. But that's what a writer does.
Finally, if you want to venture over into the snark side, you can also see this year's nominees for the Razzies, honoring the worst in this year's films achievements, with tongue firmly planted in cheek.
2010-12-20 10:21:22
Filed under: Featured, Movies
Posted by: Purple State of News
by JOHN MARKS
On the morning of June 12, 1979, my mother, father, brother and sister gathered around the breakfast table and wept. There wasn't much to say. He was gone, and he himself would have been the last to dwell on the matter. Still, we were grief struck. The night before, after a long fight, John Wayne had died of stomach cancer.
Walking around the streets of New York City lately, passing the gorgeous sepia posters for True Grit, the new western coming out this week from directors Joel and Ethan Coen, I think of that morning and get a little wistful. The first version of the Charles Portis novel True Grit came out in 1969 and starred John Wayne as the irascible, drunken sheriff Rooster Cogburn in his lone Oscar-winning performance.
If there was a canonical heart to our love for Wayne, this was it.
In the movie, a young girl, played by Kim Darby, sets out to avenge the murder of her father and hires Cogburn and a Texas Ranger, played horribly by country singer Glen Campbell, to help her. The movie always seemed to come on network television around the holidays, and so after a sumptuous meal, whether in Dallas, Texas, where I grew up, or Checotah, Oklahoma, where my mother's parents lived, we'd gather around the Zenith set and watch one more time as the outnumbered Duke put reins in his mouth and charged Lucky Ned Pepper and his band with pistols blazing.
I see myself lying on the floor, chin in my hands, between cousins from Lubbock and Muskogee, looking at the landscape in the movie, which was supposedly set in Oklahoma and laughing at the fact that it was so obviously Colorado. Ritualistically, as soon as Glen Campbell entered the action, an adult would always say, "He stinks in this movie."
It didn't matter. In True Grit, in the late 1970's, Wayne made us all feel that he was the best of our kind: Texans and Oklahomans, westerners and individualists, men, women and children of Nixon's Silent Majority. Rooster Cogburn might be drunk, profane, mendacious and greedy. Yet he remained somehow decent. He wouldn't run, even as the bad guys mocked him, and in that moment, he was more than a movie star. He became a role model.
True Grit is nowhere near John Wayne's finest hour. In movie like The Searchers, Red River, Fort Apache and Rio Bravo, he delivers some of the greatest performances in the history of American movies, but I'd be lying if I said my love for the Duke stopped at his acting talent.
It wasn't about his politics either, though my parents and most of my family agreed with his hawkish stance on Vietnam. I had to look past his dogmatic conservatism, but it wasn't hard.
At his best, Wayne offered up a version of manhood that smacked of an honest, at times exhausted, yet enduring dignity. There is a furious joy in the desolation of the character, a sense that the Wayne persona belongs in those extravagant western landscapes, that he delivers effortlessly the fullest possible expression of a gloriously wild life, and while he—and we–might have regrets for individual decisions, for the violence, the arrogance, the anger in the character, at the end of the day, he can not be anything other than he is.
In general, the Coens and their cast have tried to distance themselves from Wayne and his Cogburn. In every interview I've read with the directors, and in a David Letterman interview with Matt Damon last week, there's a clear sense of trying to talk down the relationship between the two movies. Damon has used the term "some John Wayne movie" to describe the first one. (He will have had an amazing career indeed if he delivers even one or two performances in his life that come close to Wayne's best, but that's another story). The first movie barely scraped the surface of the book, the party line goes, so the new one is really the first time the book has been made into a movie.
That's not the case. Whole chunks of the book are in the original remake–dialogue, character, the works. Meanwhile, I have it on good authority that the climactic scene in the new one is roughly the same.
To this day, whenever I'm in a tough spot, I think of that moment in True Grit when Rooster Cogburn charges his enemies. The setting is a high mountain meadow. The camera shoots from below, emblazoning Wayne against the aspen trees. Wayne cocks his rifle, and Elmer Bernstein's score blares. Sometime in high school, I memorized the entire exchange, which I had recorded on cassette off a television viewing, and I can still recite it by heart.
"I mean to kill you in one minute, Ned, or see you hang in Fort Smith at Judge Parker's convenience," Cogburn announces to the leader of the bunch. "Which'll it be?"
"I call that bold talk for a one-eyed fat man," Lucky Ned Pepper taunts in reply.
Yes, but he was our one-eyed fat man, warts and all. So this Christmas, while I'm watching and probably loving the new True Grit, starring a perfectly cast Jeff Bridges in the Wayne role, I will think fondly of the Duke and hope that wherever he is, he'll know that for me and mine, there will only ever be one Rooster Cogburn.